Welcome
Hello from the farm!
Please see our OPENING TIMES for the Farm Shop, Coffee Shop & Forest Adventure below.
Click here to read our latest newsletter!
SMALL FARM SHOP OF THE YEAR 2023 and FARM SHOP BUTCHERY OF THE YEAR 2023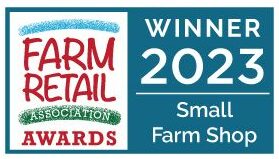 The Farm Shop is very well stocked and open Tuesdays-Saturdays. See our Farm Shop page for much more information, we're taking Christmas orders now!
The Coffee Shop is open Tuesdays – Sundays. There are indoor & outdoor seating options and we are not taking table bookings. Please note that we have a small kitchen and food is cooked freshly to order,  this can mean a wait when visitors all decide to eat at the same moment.  Do pop over if you are calling up to the farm shop (please note, the farm shop is currently closed on Sundays and Mondays) or passing through on your walk or cycle ride!  Click here for further information. 
The Forest Adventure  is closed for the winter. 
29312
Facebook
followers
Local
Quality
Produce
229
5 star reviews on
Trip Advisor
Visit our shop for more great products!
Coffee Shop
Opening Times
Forest Adventure
Opening Times
Farm Shop
Coffee Shop
Forest Adventure
This place is a little gem, lovely day out for the family. Cake is good, coffee is lovely breakfast is great. Plus I was struggling with 2 kids and dropped my cakes all over, they replaced the straight away which was really kind. Will keep going back.
September 2019
Fantastic place for ages from toddler to teen. Woods with play grounds and slides and trails to explore. Picnics are welcome but in a set area. Still good in the rain just will need wellies we have been in all weathers and have had season ticket for 2 years now. Safe area for kids to explore and small play are close to coffe shop so kids can play and adults can relax with some amazing cakes and food with some lovely coffee.
October 2019
I have visited Broom House Farm a few times now and I have always been delighted with the food, coffee and service. I especially love the Burgers with the sautéed potatoes and slaw.
JessicapH
a warm welcome serving us an hearty breakfast! the farm shop was second to none.Well signposted if a little remote.an excellent base for a walk before returning to good food/drink in coffee shop.
January 2020
Newsletter Sign up
Join our mailing list for the latest news, offers and events.
"*" indicates required fields